DIY "Bubbling" Cauldron for Halloween
  A trend that has exploded across TikTok and Instagram is the DIY bubbling cauldron using ornaments, your choice of decorative cauldron, some "fairy" string lights, and an optional ribbon. I first encountered this idea from @Aurelie.Erikson on Tiktok, who created her piece using lovely shades of gold, champaign, and a rustic taupe ribbon. Her original video has a brief tutorial, so I decided to give this DIY a try with some traditional "witchy" colors and a modification for easy storage.
---
---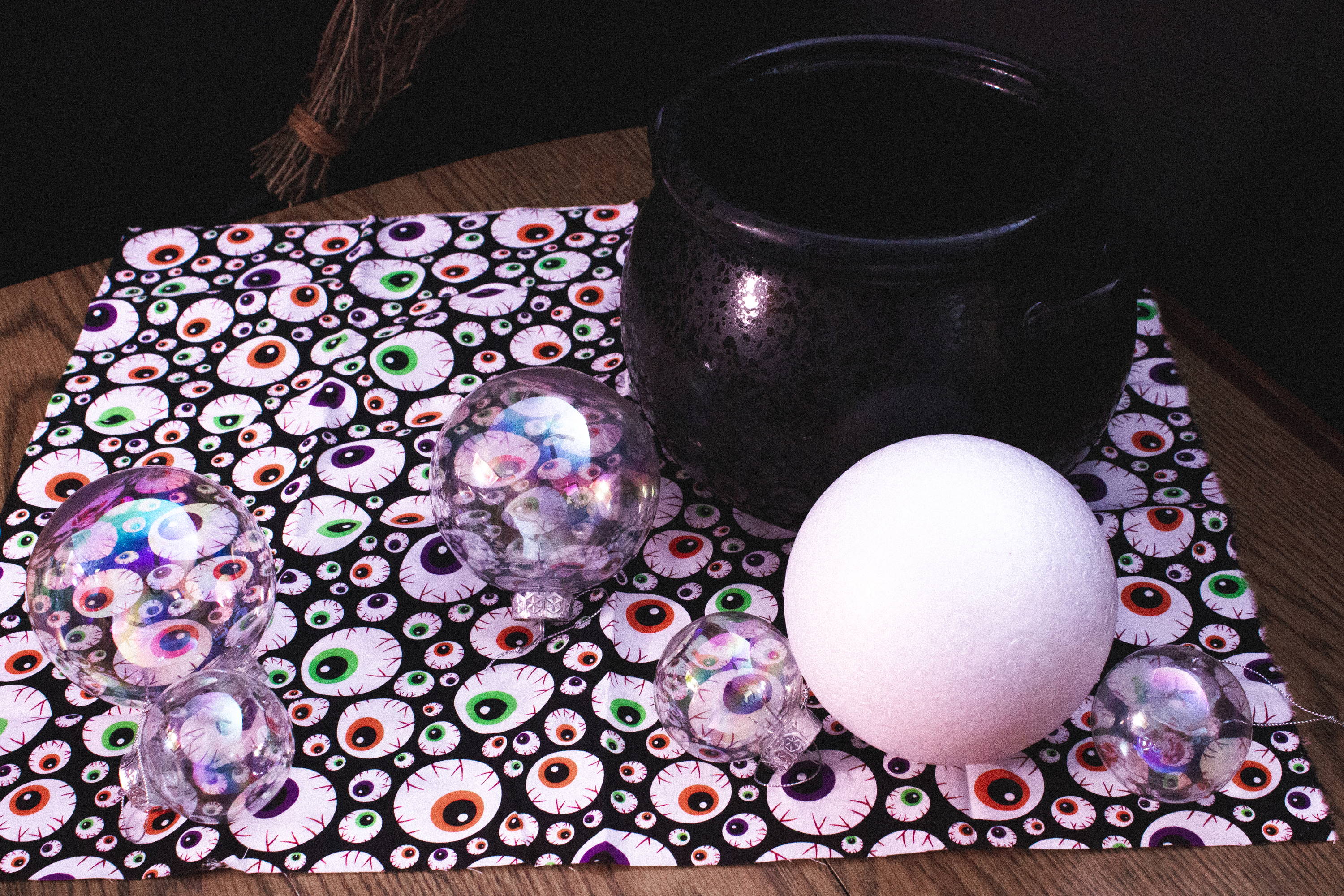 ---
  I picked up iridescent, empty craft ornaments from Amazon (though I hear they're on clearance at Hobby Lobby if you're looking for a local option) in two sizes, 4" and 2.5" spheres, and removed the silver hook pieces. I also purchased a 5" foam ball for crafts to use as the "anchor piece" for the bubbles. I like to repurpose items or give them multiple uses in my kitchen, so I grabbed my food safe cauldron serving bowl that I picked up on clearance earlier in the year to use for this centerpiece. Make sure that your cauldron of choice allows for a 5" foam ball, though you can easily scale this project up or down depending on your materials and preferences.
  I wanted the classic, green, bubbling cauldron look for my design, so I found a strand of green LED fairy lights that came in a 33-ft spool. Aurelie.Erikson's original uses lights with a battery pack for power, but I wanted to use lights that I could plug-in instead of battery usage. No matter what color lights you opt for you can find a nice assortment of shades in either battery or plug-in power mode. While I love the flexibility of a battery pack in terms of moving around the piece and displaying it anywhere, I knew that mine was going to sit on a mantle near a power source. Finally, I grabbed my trusty glue gun and some leftover scrap fabric for my workspace. Who doesn't love eyeballs watching your glue gun skills?
How to Make Your Cauldron
  I started by cutting a small section of my foam ball into a "flat spot" that would balance inside the cauldron. Then, I began slowly adding one ornament at a time, using more of the 2.5" inch balls than my 4" balls because of the size of my cauldron. The opening of the ornament where the hook was attached can be used to anchor each piece more securely, and once the final project is illuminated you can barely see the openings, so don't worry too much about making sure the opening is buried at the bottom of the ornament. I decided to have the top part of my cauldron bubbles all glued together, but the "overflow" potion glued together separately, so that at the end of the season I can store the piece more easily by taking apart the two sides. This is entirely optional, but it worked for my purposes, and made it much easier to move the finished project around.
  The cauldron bubbles are a little fragile depending on how much glue you use to stick them together, and I found that more glue didn't show up once the piece was illuminated so I recommend a fairly good pool of glue when you stick your pieces together. I had no trouble with the glue being too hot for the plastic ornaments, but of course please take care whenever we're talking about molten glue!
  Because the fairy lights were wrapped around with the plug at the beginning of the spool, I had to unravel the whole line and re-wrap it so that I could feed the beginning of the line through the natural gaps made by the ornaments. This is probably the most time consuming part of the DIY bubbling cauldron project, and I recommend an assistant to help feed the string through the openings. I also recommend that the helper in question is not a cat, because my cat loved helping with this step. I looped roughly half of the 33-ft strand around the foam ball anchor, which I could lift out of the cauldron for this step, to have the largest glow within the cauldron itself.
  Finally, I left some slack at the end of the fairy lights to dangle at the side of my cauldron, which I concealed by pushing the second collection of bubbles against the outer cauldron wall, trapping the lights inside and making those bubbles illuminate with a faint green glow. Maneuvering the plug attachment for the power cord behind the cauldron allowed me to hide the entire power assembly behind the cauldron.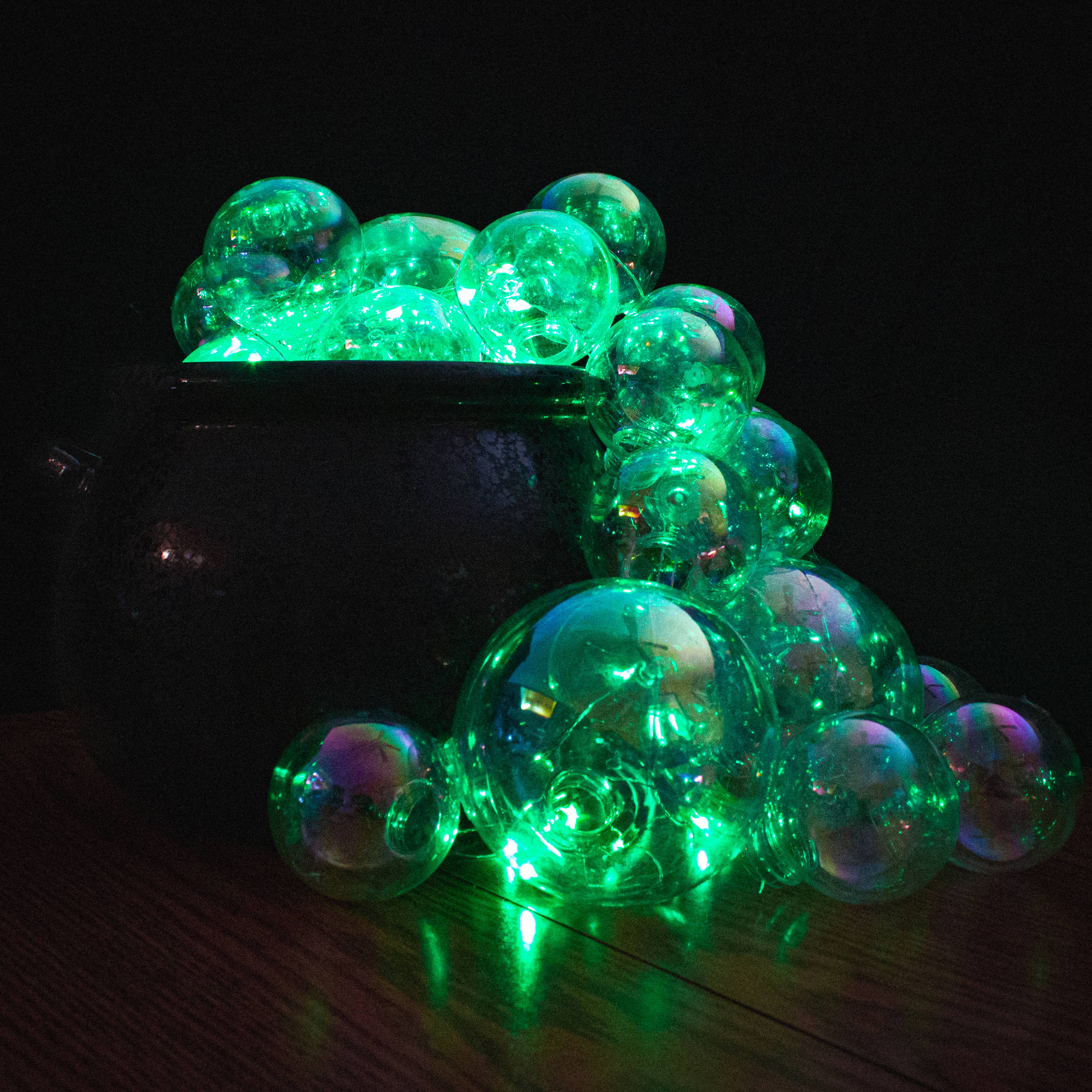 The sheer volume of fairy lights makes this piece glow pleasantly during the day as well as after dark, but the DIY cauldron comes to life after the lights go out. I decided against a ribbon adornment, but you could easily add any number of fun designs to the widest part of your chosen cauldron piece. As much as I like the two-piece design of separate bubble pools, I think this piece will be displayed in my home regularly rather than seasonally, but I am glad I decided on a slight variation that makes transporting the DIY bubbling cauldron much easier. If you have any questions let us know, and if you make this DIY project, please tag us on Instagram or Tiktok! Thank you, Aurelie.Erikson, for undoubtedly inspiring thousands of DIY witchy enthusiasts to create their own magical centerpiece.
*This article contains affiliate links, where we get paid a commission if you click our link then purchase. We only recomended products our staff has tried.

Our Favorite Witchy Gifts
---